lets users compete for the football (a.k.a. "soccer") prediction crown: in private and public groups users can place their virtual bets on football matches of the Champions League, Euro League, German Bundesliga and next year on the Euro 2023. The better your bets, the more points you earn. These points can be redeemed for rewards and used for participating in competitions for the chance to win match tickets and other special prices.
Through its streamlined user experience and the smart mechanics around leaderboards and groups, Gambify already had above-average retention and engagement metrics. An average 30 day retention rate of 75% is a number that very few apps in the sports category are able to achieve. The simple yet addictive model even attracted some international football stars such as Toni Kroos of Real Madrid, who is an active Gambify user. Nevertheless the makers of Gambify felt that there are a few missing pieces in the community experience of their product, says Gambify CEO Tobias Degele:
"Our user base already was pretty engaged, but we thought that we had to go further. We wanted to go beyond leaderboards and groups. Since we wanted to strengthen the user-to-user connection, we knew we had to enable users to follow each other."
After looking into what that would exactly mean for their product, Gambify decided to introduce three major additions to their social features:
Following Users
Public User Profiles
Activity Feed
By making the activity of other users more visible, Gambify wanted to drive users back to their app beyond existing usage patterns that were mostly based on placing bets and comparing results after a match day. The hypothesis was, that with these new features users would have a less anonymous experience and that the interaction with others would make users come back more frequently.
The Integration
After it was clear what Gambify wanted to build, research began. How are other successful apps solving these features and what could the tech stack look like? Gambify CTO Marc Höffl explains the research process:
"When researching for best practices and tools for building this, we came across Tapglue. After looking deeply into their platform, we decided against building these features on our own - the hassle-free scalability and much faster time to market convinced us."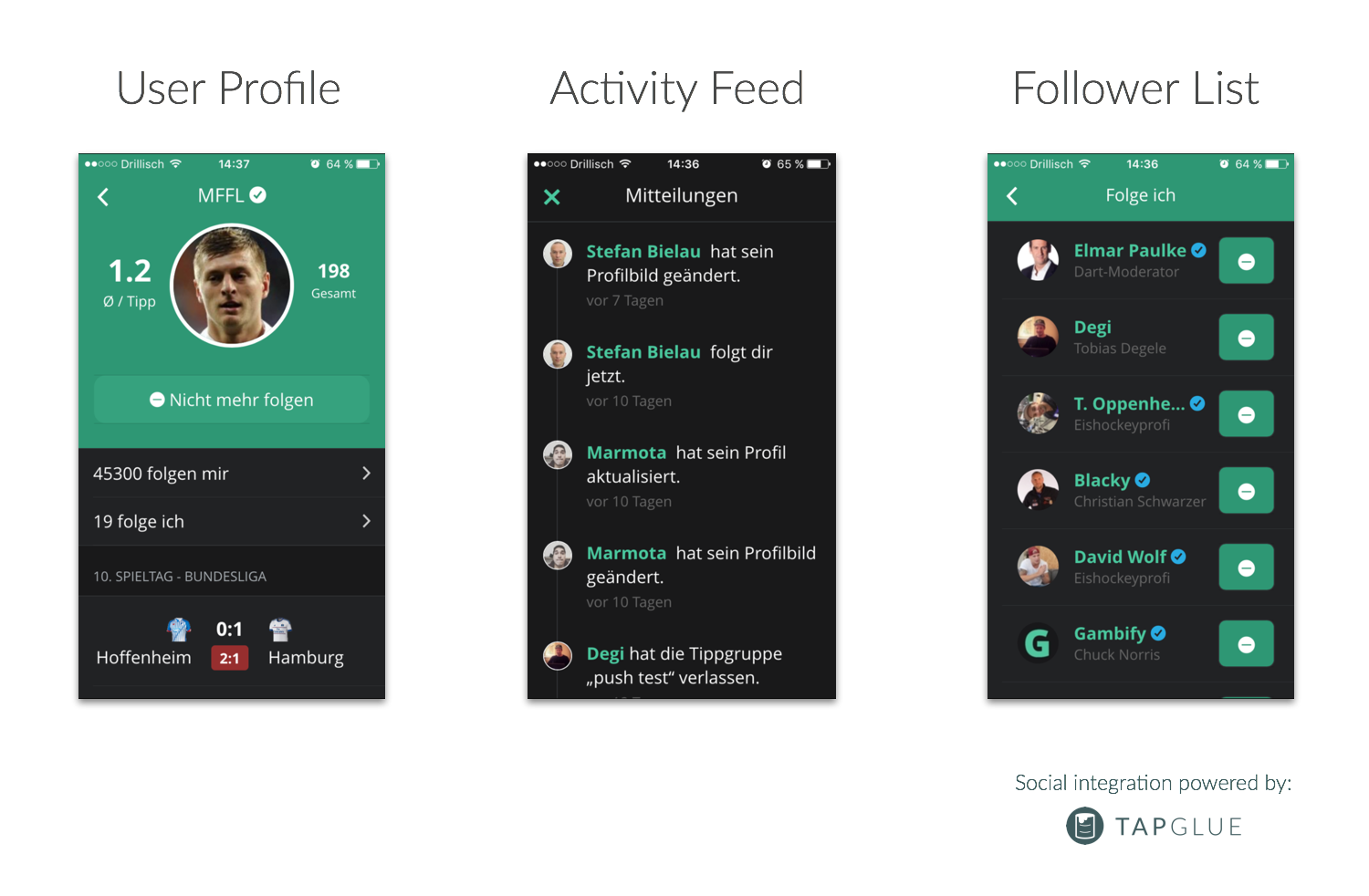 Including concept and design phase, Gambify integrated the Tapglue Platform within less than a week into their and app. Gambify is now able to provide their users with a whole new experience. By letting users visit others people's profiles and adding the functionality to follow others, the experience feels much less loose. You can now stay up to date with what others are doing. Amongst other things, users now get notified if somebody joins or leaves a betting group, changes their profile picture or if they gain a new follower.
Tobias explains what has changed for their user base:
"Every time users open the app, they now actually experience the immense activity of others. They have a much higher motivation to be more active, come back more frequently, place their bets and explore the community."
The Results
Having already outstanding retention rates, Gambify's focus was to increase the user engagement in each session. Before integrating, they determined average number of sessions per user and impressions per session as the metrics they wanted to monitor closely.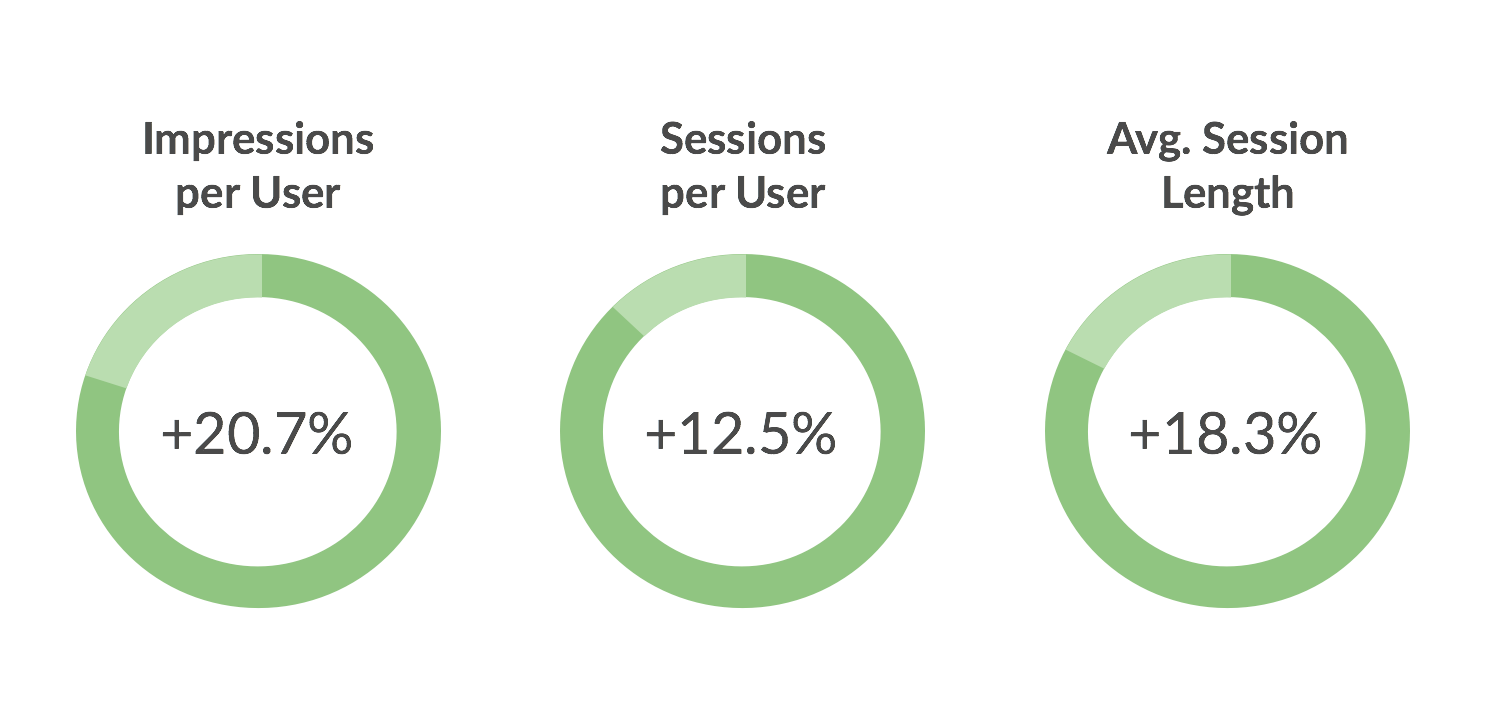 The results look more than promising: Just two match days after the integration, Gambify already saw an impressive jump in their core metrics. Comparing match days before and after the integration, the number of sessions per active user increased by +12,5%. Looking at the number of impressions each user does, with +20,7% the uplift is even more impressive. Not only do active users come back more frequently and visit more screens, they also stay longer: the session length per user increased by +18,3%.
Tobias is more than happy with those results:
"Those results are much better than what we expected. We're excited to monitor the numbers closely over the next weeks to see what the impact on the overall retention will be. With these promising numbers, we will definitely enhance the new social features even more and introduce new features to our activity feed."